Varerne kan bestilles via email: dstk.info@gmail.com eller pr. telefon: 20 30 38 18
Orders can be placed to: dstk.info@gmail.com, or by phone: 0045 – 20 30 38 18.
DVD
"Using daily life as our spiritual practice"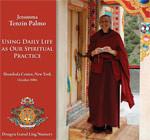 Af Jetsunma Tenzin Palmo.
There is always a temptation to regard our dharma practice as separate from our ordinary life; attending talks, meditation courses or sitting in meditation and the rest of the time spent with our family, friends and at work as just worldly activity. 
So how do we bring the two together? In this DVD Jetsunma makes practical observations and suggestions on how to use our daily life to enhance our practice, no matter who we are with or what we are doing.
Sprog: engelsk. Pris: 125,00 Kr. + porto. 
"A Cave in the Snow"
Jetsunma Tenzin Palmo's life story
Inspired by the international best-selling biography Cave in the Snow by Vicki McKenzie, this is the documentary of the extraordinary life of Jetsunma Tenzin Palmo. A 52-minute film by the award-winning documentary makers Liz Thompson and Ellenor Cox, it includes an interview with His Holiness the 14th Dalai Lama. Sprog: Engelsk. Pris: Kr. 125,00 + porto. 
"When the Iron Bird Flies"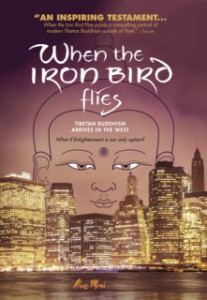 With His Holiness the 17th Karmapa, Her Eminense Jetsun Lhandro Rinpoche, Richard Gere, Mingyur Rinpoche, Dzongsar Khyentse Rinpoche, Lama Tsultrim Allione, Tsoknyi Rinpoche, Anam Thubten and many more.
WHEN THE IRON BIRD FLIES takes us on an up-close and personal journey, exploring the complex interactions between contemporary Tibetan Buddhism and western culture. The film goes in-depth to portray the experiences and insights of both teachers and practitioners in the US and around the world. Along the way, it illuminates the wide ranging dialogs taking place between Buddhist teachings and science, psychology, gender theory and the arts. The film creates a vivid and entertaining portrait of the world of Tibetan Buddhism, as it is manifesting in the West and asks the vital question – 'In these increasingly chaotic modern times, can these age old teachings help us to find genuine happiness and create a saner, more compassionate 21st century world? Sprog: engelsk. Pris: 200,00 kr. + porto.
"Little Tibet" 1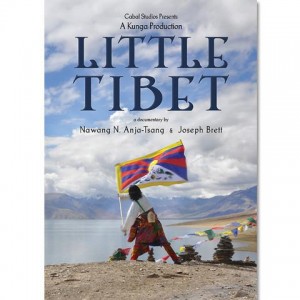 Dokumentary by Nawang Anja-Tsang and Joseph Brett. – As a Tibetan who cannot return to his own country, Sonam, who is a Tibetan refugee living in England, is in search of Tibet outside Tibet. Known as "Little Tibet" Ladakh is on the roof of the world in the northern part of India. It borders with Tibet, and shares religion, language and culture with Tibet. – Along his journey in the breathtaking landscape of Ladakh Sonam visits monasteries, nomads and a Tibetan wedding, and sees His Holiness the Dalai Lama gives teachings to thousands of people in Ladakh. Sprog: engelsk. Pris: Kr. 150,00 + porto.
"Little Tibet" 2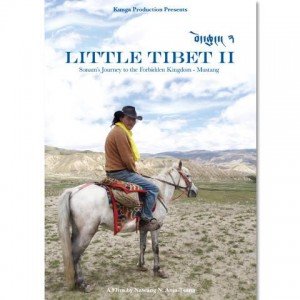 A documentary by Nawang Anja-Tsang. – Sonam, who's travel through Ladakh one can see in "Little Tibet 2", traces his father's footstep through Nepal to Mustang, where the Tibetan language is still widely spoken and the traditional culture of Tibet still remains. Here Sonam meets a yogi, has an audience with the King of Mustang, meets Western trekkers and a veteran of the Tibetan guerilla army who operated from it's base in Mustang during the 1960s and 1970s, and explores the mysterious and hidden kingdom of Mustang.                 Sprog: engelsk. Pris: Kr. 150,00 + porto. 
 H.H. Dalai Lama: "Ethics for the New Millennium"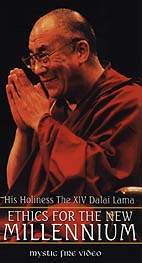 I dette interview med H.H. Dalai Lama, der blev optaget i the Royal Albert Hall i London, taler H.H. om behovet for en indre transformation som grundlaget for en ny og transformeret verden i det nye millennium. Med varme, ærlighed og humor opfordrer han menneskeheden til at forbinde individuel lykke med en etisk vision af verden, hvor vi også er optaget af gøre andre lykkelige. – Sprog: engelsk. Varighed: 81 minutter. Pris: 200 kr. inkl. porto.
"The Sacred Sites of the Dalai Lamas"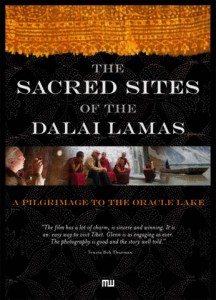 En meget smuk film fra Dalai Lamaernes og andre store, tibetanske mestres hemmelige pilgrimssteder, bl.a. langt oppe i Himalaya, hvor der aldrig har været filmet før. Filmet af forfatter og oversætter Glenn Mullin. I filmen besøger man huler hvor de store buddhistiske mestre har mediteret, klostre hvor de har undervist og "orakel-søen", Lhamo Lhatso i Tibet, hvor alle Dalai Lamaer og andre store buddhistiske mestre har haft deres visioner. Sprog: Engelsk. Varighed: ca 2 timer. Pris kr. 200,00 inkl. porto.
———– 0 ———–
 "10 Questions for The Dalai Lama"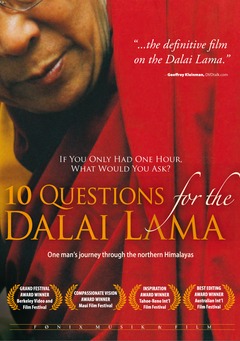 En meget smuk film, der veksler mellem interview med Dalai Lama, og fantastiske scenarier fra klostre, huler og smukke bjerge i Himalaya-regionen, samt information om forskellige aspekter af den tibetanske buddhisme. En meget smuk og informativ film. Sprog: engelsk. Varighed: 85 minutter. Pris: 200 kr. inkl. porto.